Today is Teej, a festival I used to look forward to when I was a kid, reason: it bought me three of my favorite things of childhood :
Good food(i am a foodie),
Holiday from school(I hated school with a passion when I was a kid) and
Girly gifts(these i loved).
My uncle(mom's brother) used to visit us every teej and he used to bring gifts for my mother and me.
Gifts like clothes, sweets and cosmetics, and toys for me.
Image source: topnews.in
I was not aware of the significance of teej or why it is celebrated except that Teej meant gifts, food and yeah a swing in our backyard.
Now that I am older and know Mr.Google I know that the festival of Teej commemorates the reunion of Lord Shiva and Goddess Parvati(sorry mom I know you must have told me about it then, yeah I did not listen to anything)
Teej also celebrates rainy season, also called sawan in Hindi.


Legend of Teej
According to Hindu mythology, in the month of Shravan, Goddess Parvati reunited with Lord Shiva after a penance of hundred years. In her 108th birth, Lord Shiva realized her devotion for him and accepted her as his wife. This legend is said to be the basis of Teej celebrations.(source: http://www.teejfestival.org)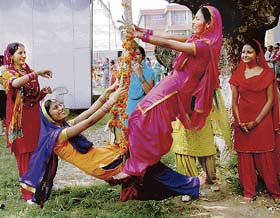 Rituals of Teej:
You gotta have rituals or it's no fun

Applying Henna or Mehndi
women keep fast and perform other customs for long and healthy life of their husband and worship goddess parvati
And my favourite part of teej the swings, women get dressed up and swing, sing songs and dance, as a kid I used to love seeing grown up aunties swinging, singing and dancing. Mum used to dress me up and I was allowed to play as long as I wanted, a luxury believe me.
Image source:
tribuneindia
.com
In Mumbai Teej is not celebrated but I celebrated it by getting dressed up in my brightest clothes, buying presents for husband and cooking good food.
I am not religious but I feel that you have to keep the culture alive or there would be no festivals left.
And here's I at my brightest and most colorful.
This is an ethnic dress called salwar suit worn with a long scarf called dupatta or chunni, there are various ways of draping it I have tried to cover the most common ones.
salwar suit: custom made(gift from mom)
dupatta: hand made (gift from mom)
bangles: bandra
ear rings: twisted
I love this outfit and lament the fact that I hardly get a chance to wear it.
The dupatta is very heavy and keeps slipping but I do not pin it for the fear of damaging it
The way women wear dupatta in villages by using it to cover their head.
My gypsy ear rings
And now am off to Kerala for a week of fun, so will see you all after next week.